Philippines bets on bright future for gaming industry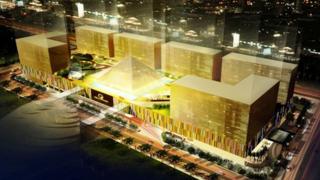 In recent weeks, two giants of the casino industry, the American tycoon Steve Wynn and the Japanese investor Kazuo Okada, have been conducting a very public row.
But their disagreement is not based on anything that happened in America or Japan - it centres on the Philippines, which is trying to turn its fledgling casino industry into Asia's next gaming hub.
Mr Wynn has accused Mr Okada of making illegal payments and giving improper gifts and hospitality to the Philippine gaming regulator, Pagcor, violating US anti-corruption laws.
Mr Okada, who denies he has done anything wrong, has already been forced to sell his stake in Wynn Resorts. It now looks as if the row is heading for a lengthy courtroom battle.
In the Philippines - where construction is under way for a massive new casino complex along Manila Bay - all this makes uncomfortable reading, especially for Cristino Naguiat, the Pagcor chairman caught up in the middle of the row.
"We're the collateral damage," Mr Naguiat says. "We feel used in this fight. Bad things were said about me, bad things were said about our corporation, bad things were said about our country."
He insists that all he accepted was free hotel accommodation - and did nothing wrong. "We stayed in their hotel because it's casino practice."
The allegations are particularly damaging because they centre on claims of corruption, a reason often given in the past for not investing in the Philippines, and something that President Benigno Aquino has prided himself on trying to stamp out.
Mr Okada himself has acknowledged that his disagreement with Mr Wynn "puts the Philippines in a bad light", saying in a statement that he was "deeply remorseful as to how the controversy besmirched this country's reputation".
But the Pagcor chairman, Mr Naguiat, is determined to weather the storm and look to the future.
"I've lost 10 pounds in weight with the stress. That's definitely a positive", he says, with a smile.
High risk high reward
In many ways, Mr Naguiat has has reason to be optimistic. Mr Okada appears to have no intention of backing out of his $2bn (£1.3bn) investment, and it is easy to see why he thinks the Philippines is such a good bet.
This country has a window of opportunity right now. Gaming is a lucrative and growing industry in Asia, and while other countries such as South Korea, Japan and Taiwan are taking initial steps to cash in on this trend, the Philippines is ahead of the game.
Its first large-scale casino complex, Resorts World Manila, opened in 2010, and generated $355m in revenue in its first year of operation.
The Philippines is not just ahead of other new markets; it also has several key benefits over the more established ones, according to Gustino De Marco, vice-president at the Hong Kong-based brokerage BTIG and a specialist in this area.
Firstly, it has a strong domestic demand and the type of games Filipinos like to play are the high risk-high reward games such as slot machines, which give better returns to the casino operator than card tables.
Another attraction is geography, with the Philippines only a few hours flight from China, Japan and South Korea, where most high-rolling Asian gamers come from.
And while it is near China, it is not under any kind of Chinese jurisdiction. So, unlike Macau, which in recent years has had to ramp up its gambling tax and impose certain visa restrictions on Chinese gamers, the Philippines is free to offer all the incentives it can.
And its current incentives are extremely favourable. In Macau, gaming tax is 40% plus 12% corporate tax. In the Philippines, the mass-market tax is 25%, while the VIP tax, which is designed to entice high-spending foreigners, is just 15%.
Conflict of interest?
But the Philippines does not have everything in its favour.
Steve Wynn has preferred to invest elsewhere, and his interests have tended to be in more developed countries such as the US, Singapore and Macau and and there is no doubt that work still needs to be done to improve the Philippines' image in order to attract certain types of investors.
The lingering worries about corruption and layers of bureaucracy still exist, although President Aquino's attempts to clean up the system have undoubtedly calmed some nerves.
Another frequently-heard complaint is about the role of Pagcor itself.
"Pagcor operates small-scale gambling parlours, and also regulates the four licenses who are building the integrated resort-casinos. So there's a potential conflict of interest," says Gustino De Marco.
Even before the Wynn-Okada row blew up, Pagcor knew it had to change its image.
"We're very much aware of the criticism and we're trying to address that by evolving Pagcor into a credible regulator," Francis Hernando, Pagcor's vice-president, told me in January.
"We're trying to get a clear delineation between the regulatory and the operating side."
Another issue is spiritual rather than financial. The Catholic Church has an important influence on politics in the Philippines and the bishops are less than happy at the prospect of having a mega-casino nearby.
"Gambling is a scourge, a plague. It creates a lot of social problems," says Bishop Oscar Cruz, who has written a book on the subject.
The government knows it needs to take such views into account.
"We have to tread more carefully than other countries," Benito Bengzon, a spokesman for the Department of Tourism, acknowledges.
Playing to win
While the row between these two industry titans unfolds, the huge complex along Manila Bay continues to grow.
The casinos and gaming halls will be surrounded by dining facilities, theatres and cinemas, and Pagcor estimates that there will be a minimum of 3,200 hotel rooms on site.
Some will open in 2013, while others will not be ready until four years later, when Pagcor is aiming for an annual gaming revenue of $10bn.
And while it is clear that the Philippine casino industry has been hurt by the Wynn-Okada row, its future will depend on its ability to reassure both investors and gamblers that the country still has a lot to offer.
Otherwise they may find very few of them willing to roll the dice and take a punt on its success.