Starbucks profits rise 10%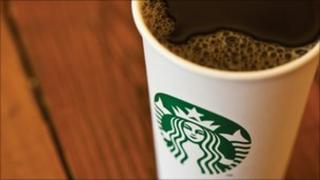 US coffee chain Starbucks has posted a 10% rise in profits for the three months to 1 January 2012, benefiting from new stores and new products.
Net profit came in at $382.1m (£243.4), compared with a $346.6m profit in the same period a year earlier. Revenues increased 16% to $3.44bn.
The firm opened 241 new stores during the quarter, including its 500th in mainland China.
It plans to open 100 new cafes in the UK over the next five years.
"A very successful holiday season delivered record results," said chief financial officer Troy Alstead in a statement.
Chief executive Howard Schultz said: "Starbucks continues to expand our global footprint and accelerate the innovation and momentum in our consumer products group business."
Starbucks announced its UK expansion in December and plans to create 5,000 jobs in the UK over the next five years.
In addition to 100 new High Street coffee shops, the company intends to increase the number of drive-through coffee outlets, typically found at motorway service stations, from nine to 200.