RBS chief Stephen Hester to get £963,000 bonus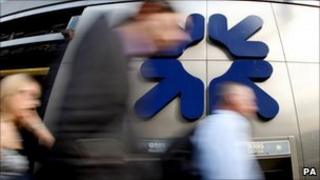 Royal Bank of Scotland (RBS) boss Stephen Hester is to receive a bonus of almost £1m.
RBS announced on Thursday that Mr Hester is to get £963,000 in shares based on the bank's closing share price on Wednesday 25 January 2012.
The bank said the bonus was for "substantial progress in making RBS safer, rebuilding performance in many businesses and improving customer service and support".
RBS is 82% owned by the taxpayer.
BBC business editor Robert Peston has learnt that the bonus came due to fears about resignations on the RBS board.
"I am reliably told that they feared Mr Hester and much of the board would have quit, if the payment had been vetoed by the government as the majority shareholder," said our business editor.
"Hester's pay reflects the significant contribution he has made towards rebuilding RBS in 2011," UK Financial Investments (UKFI) told BBC business editor Robert Peston.
UKFI was set up in 2008 to manage taxpayers' shareholdings in Royal Bank of Scotland and Lloyds after they had to be rescued.
Out of touch
The decision has prompted outrage amongst union leaders.
"Reports that the Royal Bank of Scotland chief executive is to take £1m from taxpayers' pockets as a bonus are utterly disgusting and offensive to every working person across the country," said David Fleming, Unite national officer.
Chris Leslie, the Labour Party shadow financial secretary to the Treasury gave a statement in reaction to the news.
"We now know that ministerial claims that the RBS board is contractually bound for years over bonuses were false. The board decides bonuses on an annual basis - and the biggest shareholder at the bank is the Government," said Mr Leslie.
"Anyone who thinks it is acceptable to award a bonus of almost £1m on top of a basic salary of £1.2m in these tough times is desperately out of touch with millions of people who are struggling to make ends meet."
'Progressing well'
The decision was made on Wednesday by the RBS remuneration committee whose chair is Sir Philip Hampton.
Sir Philip said on Thursday: "The Board is aware of the difficulties in trying to reconcile the competing objectives of all our stakeholders. This is especially true on the issue of pay."
Sir Philip pointed out that Mr Hester was not employed as chief executive during the period of its collapse and subsequent bailout.
"His pay is strongly geared to the recovery of RBS, which he was recruited to turn around, having played no part in its collapse," said Sir Philip.
"A safer and more valuable RBS is in the interests of our customers, shareholders and the UK economy and we are progressing well towards this goal under the leadership of Stephen Hester."
Contractual constraints
The bonus has been decided as politicians have wrestled over how to deal with the issue of compensation at banks amid the economic gloom.
Our business editor said: "The governor of the Bank of England, Mervyn King, caught the mood [on Tuesday] when he pointed to the perceived unfairness that it was the well-heeled bankers who caused the mess we're in, but it's those on average and below-average incomes who are paying the price."
For the past two years, part-nationalised RBS and Lloyds Banking Group have paid no cash bonuses of more than £2,000.
The firm has announced thousands of job cuts, although it recorded a £2bn profit in its most recent trading period compared with a £1.6bn loss in the same period in 2010.
Deputy Prime Minister Nick Clegg has said ministers are "constrained" by contractual arrangements agreed by the last government at the time of Mr Hester's appointment regarding his bonus.
Labour Party leader Ed Miliband has retorted that, "if responsibility means anything", Mr Hester should not get a payout.