Davos 2012: Bill Gates commits $750m to fight AIDS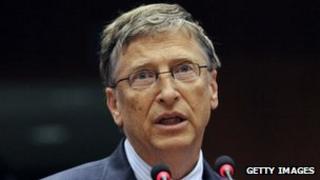 The Bill and Melinda Gates Foundation has committed a further $750m (£479m) to a global fund to combat AIDS, tuberculosis and malaria.
"These are tough economic times, but that is no excuse for cutting aid to the world's poorest," said Microsoft founder Bill Gates at the World Economic Forum (WEF).
The Global Fund is a 10-year-old public-private partnership.
The fund says it saves 100,000 lives a month.
The WEF's annual gathering is being held in the Swiss ski resort of Davos.
More than 2,600 delegates - including world leaders, economists and business chiefs - are attending the conference.
"By supporting the Global Fund, we can help to change the fortunes of the poorest countries in the world," said Mr Gates. "I can't think of more important work."
The Gates Foundation has given $650m since the Global Fund was launched 10 years ago at Davos.
Controversy
The Global Fund has faced controversy after it reported a "grave misuse of funds" in four countries last year, which caused major donors such as Germany to freeze their donations.
The current head, Michel Kazatchkine, will step down in March and former banker Gabriel Jaramillo is to take over.
Mr Gates said at Davos that some corruption is inevitable in large-scale charitable endeavours such as this, and it should not overshadow the good work of the Global Fund.
The Fund says that it has provided medical treatment to 3.3 million people, detected and treated 8.2 million people with tuberculosis, and provided 230 million bed nets to families to prevent malaria.
On Wednesday, Mr Gates said that "the world is better off" because of capitalism.
"We're going through a tough period, but there is no other system that has improved humanity," the Microsoft founder told the BBC.
The Bill and Melinda Gates Foundation has given $26bn to fund health, development and education projects.