Graduate pay will go up by 4%, recruiters say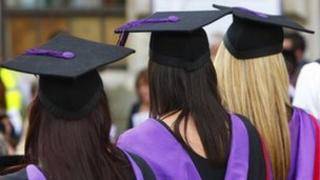 Graduate pay will rise by 4% this year - the first increase since 2009, the Association of Graduate Recruiters (AGR) has estimated.
The predicted rise will come after an "unprecedented period of stagnation" in pay, the AGR said.
However, the group also suggested that the number of graduate vacancies would drop by 1.2% in 2012, following a rise last year.
The AGR surveyed 214 recruiters who took on 21,325 graduates in 2011.
'Sizeable'
The results of the twice-yearly survey suggested that the average annual starting wage for a graduate would be £26,000 in 2012, after standing at £25,000 for two years.
This 4% rise would be higher than the 2% a year increases seen between 2006 and 2008, the AGR said, and the biggest rise since a 7% increase in 2005.
"The predicted increase to graduate salaries is significant and sizeable," said Carl Gilleard, chief executive of the AGR.
"The findings show that the market is predicted to remain relatively stable, which is a relief and should be seen as good news against an uncertain national, European and global economy."
The government announced in 2010 that public sector pay for those earning more than £21,000 would be frozen for two years. Chancellor George Osborne later said that pay would rise by only 1% in the two years to 2015.
Labour leader Ed Miliband is supporting the pay freeze for public sector workers.