Japanese electronics giant NEC to shed 10,000 jobs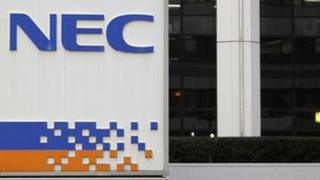 Japanese electronics firm NEC is to cut 10,000 jobs after announcing losses of 97.5bn yen ($1.25bn; £800m) in nine months.
The firm will cut 7,000 jobs in Japan, and 3,000 elsewhere, which will cost it 40bn yen.
NEC said its mobile phone business had suffered due to rivals including Apple increasing market share.
It is opening a new capacitor factory in Thailand after its current plant was damaged by last year's floods.
It is understood around half of the job losses will be permanent, full-time staff.
NEC posted a 97.5bn yen loss in the nine months to December, compared with a 53.6bn loss the year before.
The company, which has around 110,000 employees around the world, revised down its sales forecast for the full year to 3.1tn yen, a 0.5% drop on the year ending March 2011, as "challenging business conditions continue".
It cited the strong yen, global reductions in investment spending, reduced mobile phone shipments, and the impact of last year's floods in Thailand.
Also on Thursday, rival Nokia announced it made a 1.07bn euro ($1.41bn; £897m) loss in its fourth quarter after sales fell 21%.