Nintendo posts losses on strong yen and falling sales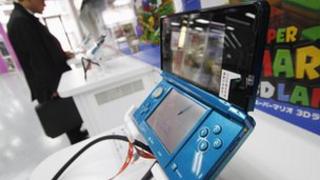 Japanese gaming giant Nintendo has unveiled heavy losses, blaming the strong yen and poor sales of its key 3DS console.
In the nine months to 31 December, it posted a loss of 48.35bn yen ($628m; £400m).
It compares with a 49.5bn yen profit in the same period of the previous year.
It has revised down its prediction of sales of its 3DS model in the full year from 16 million units to 14 million units.
The prediction comes despite a 20% cut in the cost of a Nintendo 3DS in August.
The company believes its loss for the full year will be 65bn yen, much larger than the 20bn yen loss projected earlier.
Nintendo's nine-month sales dropped to 556.17bn yen, down 31.2% from the same period the previous year.
The firm has traditionally appealed to casual gamers, who are now using smartphones and tablet computers instead of consoles.
The strong yen has also hurt Nintendo's bottom line. The dollar has been trading at about 77 yen in the last week, down from about 83 yen a year ago.
Competition in the gaming sector is increasing with the launch of Sony's Playstation Vita.
The console went on sale in Japan in December and is due out next month in the US and Europe.