H&M profits slip as its costs rise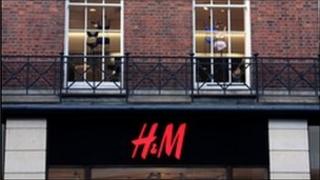 H&M has reported a fall in profits as input costs rose and the tough economic environment took its toll.
Net profit for the three months to the end of November was 5.36bn Swedish krona ($794m; £506m), 2.4% lower than a year ago. Sales rose 3% to 31bn krona.
For the 12 months to 30 November, net profit was down 15% at 15.8bn krona.
The fashion retailer said the year had been "one of the toughest for a long time" for fashion retailers but said it had increased market share.
It added that cost inflation had been high.
"H&M stands strong in a challenging market," said the company's chief executive Karl-Johan Persson.
He added that the new year had started well, but that "most indicators suggest the macro-economic climate in many of our markets will continue to be tough during 2012".
The company plans to open 275 new stores this year.
It has about 2,500 stores in 43 countries, with Germany, the UK and the US its biggest markets.