Subway to create 6,000 jobs in three years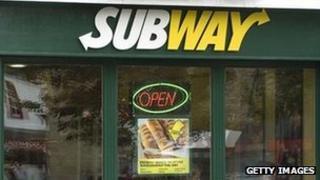 The sandwich chain Subway says it will open 600 new branches in the UK and Republic of Ireland and create 6,000 jobs over the next three years.
The company, whose best-known product is a made-to-order, foot-long sandwich roll, has expanded rapidly in the past seven years.
Subway has branches in 98 countries, with 1,400 outlets currently in the UK.
It also said on Thursday that it would display calorie information on all its menu boards.
Subway's founder, Fred DeLuca, said: "This month all across Britain we've installed our calorie menus, people can come in and see the exact calories in the sandwiches, and what we do at Subway is we make the sandwiches individually for the people.
"Nothing's pre-made, so a customer comes down the line, they make their choices, and if they're interested in healthy eating they can pick exactly what they want."