Greek talks with private creditors continue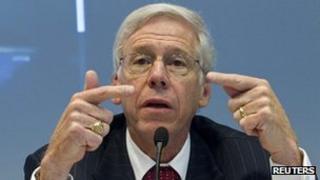 Key talks between Athens and its private creditors have resumed, with "some progress" made towards agreeing a deal to reduce Greek debt.
The Institute of International Finance, representing creditors, said talks had focused on "legal and technical issues" and would continue on Friday.
The two parties have so far failed to agree an interest rate on new bonds that would replace existing debts.
If a deal can be reached Greece should be in line for extra bailout funds.
Charles Dallara, managing director of the IIF, is participating in talks with Athens for the third successive week.
He and senior adviser Jean Lemierre had a two-hour meeting with Prime Minister Lucas Papademos on Thursday.
Athens has said it hopes to reach an agreement by the end of this week.
Separately, the interest rate that Italy has had to pay bondholders to lend it money has fallen sharply in the country's latest debt auction.
The rate it had to pay on two-year bonds fell to 3.76%, down from the 4.85% it had to pay in a similar sale last month.
The yield on Italian bonds traded on the secondary market fell to 6%, well below the highs of 7.5% seen in November.
This suggests the markets see Italy as a less risky investment.
Debt write-off
Mr Dallara was in Paris on Wednesday to discuss the negotiating position with creditors.
The IIF has said it wants the interest rate on newly-issued bonds to be 4%, while Greece is holding out for a lower rate. Eurozone ministers have backed Athens and called for a rate of less than 3.5%.
Mr Dallara has indicated he is prepared for creditors to write-off 50% of their loans to Greece, as agreed by eurozone leaders in October last year.
The head of the International Monetary Fund (IMF) has also suggested that public sector creditors should write off some of their debts.
"If the level of Greek debt held by the private sector is not sufficiently renegotiated, then public sector holders of Greek debt should also participate in the efforts," Christine Lagarde said on Wednesday.
Serious consequences
Reaching an agreement with private creditors is a precondition of any further bailout funds from the European Union, European Central Bank and IMF.
They have indicated that 130bn euros ($169bn; £108bn) is available if a deal can be struck. They are also insisting that Greece accelerates structural reforms to strengthen its economy before any funds are released.
Without the funds, Athens will not be able to make 14.5bn euros of loan repayments that are due in March.
Agreement would also mean Greece's massive debts would be dramatically reduced in one fell swoop, as it would no longer have to repay half of the money it owes to its private creditors.
If a deal is not agreed, Greece could decide itself what, if anything, to repay its creditors.
This so-called disorderly default would undermine confidence in the eurozone economy and its banking system.
Some analysts have said it could result in Greece being forced to give up the euro.