Energy committee attacks UK carbon price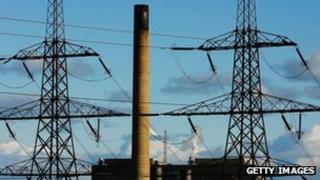 The House of Commons' energy and climate change committee has criticised government plans to put a minimum price on industry carbon emissions.
The committee said it could have a "devastating effect" on UK industry and push up the cost of power.
The comments came in a report on the EU's emissions trading scheme (ETS).
It warned that while the UK's policy probably would lower UK emissions, it may simply allow other countries to increase their own.
"The chancellor was right to say we won't save the planet by putting the UK out of business," said Tim Yeo, chairman of the committee.
"Ironically, however, it is the Treasury's decision to set a carbon price floor that could result in industry and electricity production relocating to other countries."
Clean energy
The Treasury, which is responsible for the minimum price, said it is essential to developing a low carbon economy, by making higher carbon options more expensive.
"The carbon price floor is vital in reducing uncertainty and creating incentives for investment in low carbon electricity generation now, so we have lower emissions in the future," said a Treasury spokesperson.
The government also said they have put aside money to help industry affected by the policy.
"At the Autumn Statement, the government recognised the challenges faced by energy-intensive industries in the transition to a low carbon economy, and announced an ambitious £250m package of support."
The government expects to raise £1.4bn from the scheme by 2016, according to the committee.
Emissions trading
Under the EU scheme, the amount of carbon released by industry and power stations is capped, and companies are allowed to buy and sell allowances.
However the recession has significantly reduced industrial output - and so demand for credits to cover industrial emissions has also fallen.
This has seen the price of carbon fall sharply to 7.6 euros ($9.70; £6.30) per tonne of CO2, according to Reuters Point Carbon.
The floor price was announced by the chancellor in March 2011. It will set a minimum price of £16 in 2013 and £30 in 2020.
If the actual price is below the floor, companies must pay the difference to the Treasury.
The Commons committee said that if the price stayed low, it could mean that industry and energy companies in the UK pay up to £25 extra per tonne of CO2.
The extra cost will be passed on to consumers, it warns.
Instead of pursuing the policy, the committee called for reform of the carbon trading scheme to increase the market price.