WH Smith sales drop 5% since August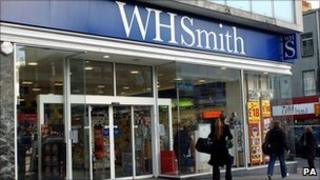 WH Smith says same-store sales have slipped 5% on the previous year, but says its profit will still be in line with expectations.
The newspapers, books and stationery retailer said its strategy of improving profit margins and cutting costs, rather than pushing sales, was working.
It trades from more than 600 town centre stores and more than 560 other outlets at airports and train stations.
The sales fall, for the 21 weeks to 25 January, is a slight improvement.
Sales for the first 10 weeks of the period fell by 6%.
Same-store, or like-for-like sales, strip out store openings and closures.
WH Smith's chief executive, Kate Swann, called it a "resilient performance", but added that the environment would continue to be challenging.
She said that the business was moving from its dependence on Christmas trading, which now accounted for less than 50% of profits, compared with 90% of profits six years ago.