Conoco Phillips agrees $160m payout for China oil spill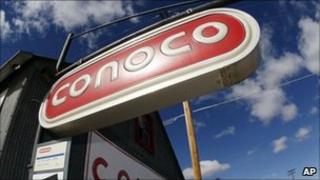 Conoco Phillips and China National Offshore Oil Corporation (CNOOC) have agreed to pay $1bn yuan ($158m; £101m) for the oil spill at their Penglai offshore field in China.
The spill, which happened last year, saw almost 3,200 barrels of oil and fluids being leaked into the Bohai Bay.
Groups of fishermen from the area had filed lawsuits demanding compensation for alleged loss of livelihood.
The Penglai oil field is China's largest offshore facility.
Conoco Phillps said in a statement that the compensation will be paid "to settle public and private claims of potentially affected fishermen in relevant Bohai Bay communities".
'Environmental stewardship'
The two firms had come under severe criticism from local fishermen as well as environmental groups, which accused them to trying to initially cover up the spill.
They had alleged that the companies had announced the spill almost a month after they had discovered the leaks.
Both Conoco Phillps and CNOOC have denied those allegations.
The US-based Conoco Phillps said that it would also set aside 100m yuan from a previously-announced environment fund to help improve fishery resources in the area.
"Conoco Phillips is committed to delivering on environmental stewardship as a responsible corporate citizen in China and around the world."