Google in privacy policy changes across its services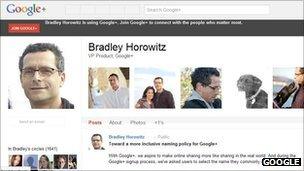 Google has changed its privacy policy, streamlining it across its multiple services including search, email, video and social networking sites.
More than 60 different policies will be combined into one that will go into effect 1 March, the company said.
Google said the new policy will give people more relevant search results and help advertisers find customers.
Google has previously faced criticism over the sharing of users data.
"We're rolling out a new main privacy policy that covers the majority of our products and explains what information we collect, and how we use it in a more readable way," said Alma Whitten, Google's director of privacy, product and engineering.
The single privacy policy will apply to Google search, Gmail, YouTube and Google+, its social networking site.
The main change applies to users who have Google accounts.
"If you're signed into Google, we can do things like suggest search queries, or tailor your search results, based on the interests you've expressed in Google+, Gmail and YouTube," the company said, explaining the changes.
The revision comes after Google's previous attempt at social networking, Buzz, was shut down.
The company was criticised for inadvertently revealing users' most e-mailed contacts to other participants through the Buzz platform.
Last year, Google and the Federal Trade Commission reached a settlement to prevent Google from misrepresenting how it uses personal information and from sharing a user's data without approval.
Google said it had been in touch with regulators over these latest changes to its privacy policy, which will apply globally, according to the Associated Press news agency.
Related Internet Links
The BBC is not responsible for the content of external sites.