Nokia celebrates 1.5bn phones running on S40
By Tim Weber
Business editor, BBC News website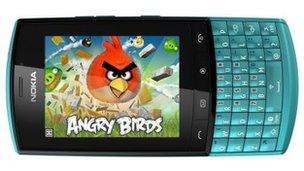 Finnish mobile phone maker Nokia says it has shipped the 1.5 billionth phone running its S40 operating system.
The first S40 phone was sold in 1999, and the software underpinned Nokia's commercial success for years.
"It's difficult to think of a product line with such an impact on the world's population," said Mary McDowell, who runs Nokia's mobile phone division.
S40 is used in feature phones, which can run applications, but lack the computing power of smartphones.
Nokia estimates that there are currently 675 million active owners of S40 phones in the world, and says that it is currently selling about 12 phones of the S40 family every second.
Today's version of S40 is far removed from the original, with some feature phones having functionalities and running applications that until a few years ago were the exclusive reserve of smartphones.
And Nokia believes that the S40 line has some way to go.
The company says that the software's efficient management of phone memory and battery power makes it an ideal candidate to "connect the next billion" - people who either don't have access to telecommunications right now, or are too poor to afford smartphones.
"The next billion," Ms McDowell told the BBC, "will not come from rural areas, but from big cities and the very young."
To make S40 phones attractive to them, the software - and the hardware it runs on - now supports a wide range of apps, from the wildly popular Angry Birds game to instant messaging and apps to connect with social networks. Ms McDowell says that "a lot of work is being done to get such marquee apps" on to the S40 platform, to boost its attractiveness.
And indeed, every day Nokia registers about 3.7m app downloads to S40 phones.
Last October, when the company launched its new flagship phone, the Lumia 800 running Microsoft's Windows Phone 7.5 software, it also presented a range of S40 phones under the new Asha brand.
Some industry experts question Nokia's attachment to S40, but Ms McDowell defends the software.
"It is a scale business with relatively low research and development cost; so even though the average unit price is low, it's profit is still good," she says.
Last year, Ms McDowell's low-margin business contributed about half of Nokia's profits.
When the world's mobile phone industry meets in Barcelona in February, industry watchers will have to ready themselves for another clutch of brand-new S40 Asha phones.