Pressure on RBS to announce slashed Hester bonus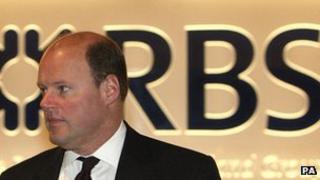 Government pressure is building on Royal Bank of Scotland's board to announce that chief executive Stephen Hester is to receive a significantly reduced bonus.
I am hearing that the Treasury will inform the company that it believes Mr Hester should receive less than half the bonus of just over £2m that he was awarded last year. So that would be a bonus of less than £1m.
However, when I spoke to a Treasury official he said it would be inappropriate to reveal the government's negotiating position.
The board of the bank, led by the chairman Sir Philip Hampton, are adamant that Mr Hester deserves a bonus, for the way he has significantly reduced the risks taken by the organisation and made it less vulnerable to external shocks (such as a potential meltdown of the eurozone).
RBS's remuneration committee is meeting tomorrow. I am told that the committee is yet to have received formal representations from the Treasury.
The issue of Mr Hester's bonus is bound to be raised with the prime minister tomorrow by the Labour leader, Ed Miliband.