Global bosses are gloomy about the economic future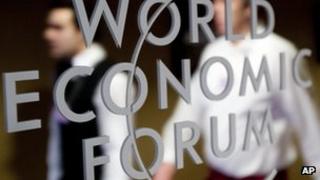 Companies around the world are getting gloomier about the economic future again, according to an annual survey of global chief executives.
Nearly half of bosses interviewed by accounting firm PricewaterhouseCoopers are forecasting that the global economy will decline this year.
The number of business leaders that are "very confident" their firms will grow has also fallen, from 48% to 40%.
On the upside, though, more than half plan to create new jobs in 2012.
The confidence of chief executives "is decidedly down as they deal with the aftershocks to the recession," said Dennis Nally, chairman of PwC International. "The optimism that had been building cautiously since 2008 has begun to recede."
The survey was released as the annual meeting of the World Economic Forum in the Swiss mountain resort Davos got under way.
Once again, the forum's agenda this year is dominated by the continuing economic crisis. However, the survey was conducted during the last three months of 2011. Since then, many economic indicators have been fairly positive, and many business leaders coming to Davos profess to be in a more positive mood than they were just a few weeks ago.
Collapse of confidence
With the eurozone crisis still unresolved, it is no surprise that chief executives of Western European companies are most pessimistic. Just a quarter expect their firms to do better this year, a dramatic plunge from 2011, when 40% were confident about the future.
But even Asian bosses are feeling economic pressures. Overall, just 42% are very confident, a fall from 52% a year before.
Most surprisingly, even in China - where year-on-year economic growth still runs at 8.9% - only a smidgen over half of the number of bosses surveyed expects to grow this year. That's down a massive 21 percentage points from last year, when 72% were bullish about their business.
Indian business confidence has plummeted as well, down from 88% to 55%.
The only - and arguably surprising - bright spot in the PwC survey is Africa, where 57% of bosses expect their business to grow, up from 50% last year.
Trouble spots
The survey suggests, however, that after years of economic crisis, company leaders now feel better prepared for coping with trouble.
Still, they continue to worry about uncertain economic growth, how easy it will be to tap fresh funding for their companies, and wild swings on the currency markets.
For its survey, PwC interviewed 1,258 chief executives in 60 countries during the last three months of 2011.