UK house sales down by 1% in 2011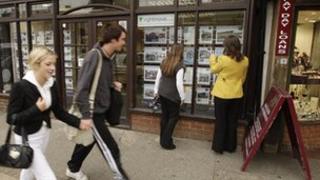 UK house sales fell just 1% last year to 869,000, one of the lowest totals on record, HM Revenue & Customs has said.
It means the property market has been in a three-year slump, with sales roughly half the levels recorded in the run up to the banking crisis in 2007.
Sales have been depressed by a combination of mortgage rationing by lenders, and rising unemployment.
The record low was in 2009, when just 848,000 homes were sold, the fewest since modern records began in 1978.
Lending reforms
Geoff Meen, professor of economics at the University of Reading, said the fall reflected several factors.
"If you have very poor levels of credit availability, for first-time buyers and people moving home, you are going to get low levels of sales taking place," he said.
"You would expect low levels of transactions taking place in any recession as well.
"Given we have very low levels of new construction activity, new transactions reflect sales of new dwellings, so if you have got low starts and completions you are going to get low transactions as well," he added.
The Council of Mortgage Lenders (CML) has predicted that total lending, to both buyers and people remortgaging, will fall again this year, which suggests that sales may fall further.
Other changes are also likely to suppress any significant rise in lending and sales.
In 2013, new rules devised by the Financial Services Authority (FSA) will be introduced to stop lenders reverting to lending habits of the recent past.
The FSA will ban mortgages where the loan is greater than the value of the property, and will also stop loans to people who cannot prove they have sufficiently large incomes to repay their home loans.
Correction: the first version of this story mistakenly said that sales had dropped by 11%, not 1%.