Petroplus to file for insolvency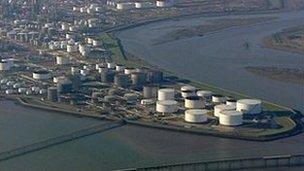 Swiss oil refiner Petroplus has said it will file for insolvency proceedings after failing to agree with creditors to extend deadlines on loan repayments.
The UK subsidiary of the firm, which owns the Coryton oil refinery in Essex, has appointed PricewaterhouseCoopers (PwC) as administrators.
Shares in the company, which is Europe's largest independent oil refiner, were suspended on Monday.
Petroplus had its credit lines frozen by its lenders in December 2011.
Its credit rating was downgraded by Standard and Poor's earlier this month on fears of the company defaulting on its debt.
"We have worked hard to avoid this outcome, but were ultimately not able to come to an agreement with our lenders to resolve these issues given the very tight and difficult European credit and refining markets," said Petroplus chief executive Jean-Paul Vettier.
"We are fully aware of the impact that this will have on our workforce, their families and the communities where we have operated our businesses."
The Coryton refinery is owned and operated by Petroplus Refining and Marketing Limited and employs about 500 staff and 350 contractors. It supplies about 20% of fuel for London and the South East.
As well as refining oil for use as fuel, it also imports fuel from other countries which has already been refined.
PwC has also been appointed as administrator for Petroplus Refining Teesside, which operates an oil storage site on Teesside and a research site in Swansea. It has about 60 employees.
"Our immediate priority is to continue to operate the Coryton refinery and the Teesside storage business without disruption while the financial position is clarified and restructuring options are explored," said Steven Pearson at PwC.
He said PwC would be starting discussions over the coming days with customers, employees, creditors and the government "to secure the future" of both sites.
BP, which used to own Coryton and sold it to Petroplus in 2007 for $1.4bn (£900m), had earlier been in talks to throw the plant a lifeline by supplying it with crude and receiving refined products as payment.
BP is the plant's biggest customer for refined fuel, but told the BBC: "There are no immediate supply issues across our network."
A group of European parliamentarians, including East of England MEP Richard Howitt, have been meeting to discuss ways to save jobs at Petroplus, which has facilities in France, Germany, Belgium, Switzerland and the UK.
The group met European Union Employment Commissioner Laszlo Andor last week to consider what options may be available.
The group is set to meet European Energy Commissioner Gunther Oettinger later this week.
Related Internet Links
The BBC is not responsible for the content of external sites.