Japan PM Noda in tax reform pledge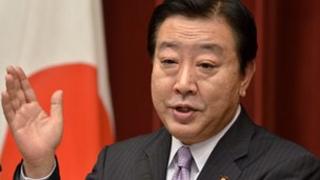 Japan's prime minister vowed to push for tax reform to help tackle debt as he convened a new session of parliament.
Yoshihiko Noda called for the sales tax to be doubled to 10% by 2015 - a controversial move seen as very unpopular with his electorate.
His call came as the central bank downgraded its growth forecast.
The Bank of Japan said it expected the economy to shrink this financial year and kept interest rates at near 0%.
The bank said debt problems in Europe and the strong yen weighed on growth.
'Too late'
Mr Noda said Japan could no longer put off tackling its public debt and renewed calls for opposition parties to join talks on tax and social security reform.
He said he aimed to submit bills to parliament by March.
"The current system, if unchanged, will put an unbearable burden on future generations. We don't have time left to postpone reforms," Mr Noda told parliament.
"Once trust in a state is lost, it's too late. That is quite obvious if you look at the situation in European countries."
Mr Noda has made the long-debated tax reform a key part of his political agenda.
However, the Cabinet office said earlier on Tuesday that Japan would not be able to achieve the goal of balancing its budget by 2020, even if the proposed sales tax was implemented.
Japan has the largest public debt burden of any country in the world.
Meanwhile, the Bank of Japan (BOJ) cut its forecast for growth for the coming financial year to 2%, down from an October estimate of 2.2%.
"Japan's economic activity has been more or less flat, mainly due to the effects of a slowdown in overseas economies and the appreciation of the yen," the BOJ said.