Petroplus share trading suspended on Swiss exchange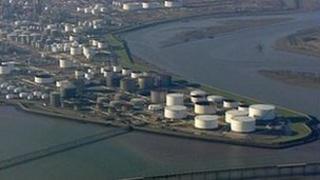 Trading in Petroplus, the owner of the Coryton oil refinery in Essex, was suspended on the Swiss SIX stock exchange on Monday.
The company operates the Coryton oil refinery in Essex which employs 1,000 people whose jobs may be affected.
The stock exchange said that the suspension came at the request of the company.
East of England MEP Richard Howitt said it leaves Coryton workers "fearing for the worst".
Petroplus Holdings, Europe's largest independent oil refiner, revealed its lenders had frozen its access to credit in December 2011.
In November 2011 the firm was fined 50,000 Swiss francs (£34,000) for misreporting its 2009 earnings by the Swiss exchange.
Petroplus saw its credit rating downgraded by credit ratings agency Standard and Poor's earlier in the month on fears of the company defaulting on its debt.
MEP campaign
A group of European parliamentarians including East of England MEP Richard Howitt have been meeting to discuss ways to save jobs at Petroplus, which has facilities in France, Germany, Belgium, Switzerland and the UK.
The group met European Union Employment Commissioner Laszlo Andor last week to consider what options may be available.
"The suspension of shares comes as a complete surprise and, following on from the company's talks both with banks and possible alternative business partners which have been held in almost complete secrecy, have left all of us campaigning for Coryton's future fearing for the worst," said Mr Howitt in a statement.
Mr Howitt's group includes other MEPs from regions across Europe which also have Petroplus refineries.
The group is set to meet European Energy Commissioner Gunther Oettinger later this week.
Oil refined at Coryton is mainly distributed throughout the southeast of England and ends up on petrol station forecourts in the local market.
The refinery is also one of the largest producers of bitumen in the UK.