Bonmarche chain bought by private equity firm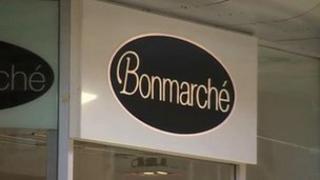 Fashion chain Bonmarche, part of the Peacocks Group, has been bought for an undisclosed sum by private equity group Sun European Partners.
However, the deal could lead to 1,400 redundancies.
Sun, which bought the entire chain apart from three stores, has said it will continue to run 230 stores but will close about 160.
Peacocks went into administration last week, having tried unsuccessfully to restructure its £240m debts.
Sun, which also owns the Alexon and Jacques Vert brands, has bought Bonmarche out of administration in a pre-pack deal.
This is where the sale of an insolvent company's assets is arranged before the formal insolvency process is completed.
The store closures mean it will continue to employ about 2,400 of the chain's 3,800 strong workforce.
Administrators KPMG said two Bonmarche stores - one in Balham in London and a second in St Albans in Hertfordshire - did not form part of the transaction and their 12 staff would be made redundant.
A third store in Perth was deemed not commercially viable and was also not part of the deal, said the administrators. It would be wound down with seven redundancies.
The company said it was too early to release a list of all sites to be closed.
Chris Laverty, joint administrator and restructuring partner at KPMG, said: "Given the hostile conditions on the high street, we're pleased to have concluded a sale with Sun European Partners.
"The deal is a positive step forward in underscoring Bonmarche's future."
'Sustainable growth'
Sun, which is ultimately based in the US, said it would take on Bonmarche's head office in Wakefield, West Yorkshire.
Its vice-president, Matthias Gundlach, said it was working with current management to put "a sustainable growth programme" in place.
He added: "Bonmarche is a great brand that operates in an attractive niche of the apparel sector that we know very well.
"Thanks to its strong range with a good value-for-money proposition and a unique in-store service experience, Bonmarche has a loyal customer base of regular repeat buyers."
Bonmarche, which has a head office in Wakefield, West Yorkshire, was founded in 1982 and bought by Peacocks in 2002.
It is understood that numerous private equity firms including Sun and clothing firm Edinburgh Woollen Mill are interested in buying the Peacocks chain, while Tesco is reported to be interested in some of its stores.
Private equity firm Op Capita, which is in the process of buying Comet from Kesa Electricals, is also expected to assess Peacocks' potential.
A total of 50 firms are thought to have registered an interest and initial bids are expected by the end of the month.
'Concerns'
Meanwhile the Welsh government has announced it is in contact with Peacocks' administrators, and has pledged to do all it can to support the 249 staff at the Cardiff headquarters who have lost their jobs.
Business Minister Edwina Hart AM said: "As a government, we are determined to do all that we can to support this major employer and its workforce at this difficult time and we remain hopeful that as many stores and jobs as possible across the UK can still be saved."
Ms Hart revealed that she spoke to the UK business minister to outline her concerns about the company on 17 January.
Welsh government officials also contacted the principal lender at both a regional and national level to ensure that the implications for Wales had been considered, she added.
"We maintained communications with Peacocks headquarters during this difficult period," said Ms Hart.