Thomas Cook summer package bookings dive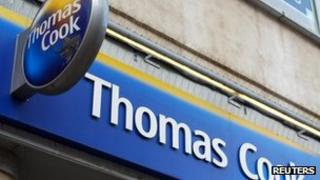 Tour operator Thomas Cook has seen UK summer package holiday bookings take a steep fall, it has confirmed.
Bookings have dropped by nearly 33% in the two weeks to 13 January - a key period for tour operators.
But it disputed a report in the Financial Times, which said the fall reflected a lack of consumer confidence following its recent refinancing.
The company said the drop reflected a cut in holiday capacity in an attempt to cut costs.
The FT said the drop at Thomas Cook was nearly three times the 11% fall at Thomson Holidays owner TUI over the same period.
Thomas Cook shares were down 5% in morning trading.
In a statement, Thomas Cook said: "We last reported UK bookings at our results on 14 December 2011.
"This showed that we were going into January with a decent mainstream order book well ahead of the market.
"However, as we explained at the time, given weak consumer sentiment, we had cut our planned capacity by 8%.
"Therefore, we were expecting our intake plan to be well down in January, i.e. we would be managing bookings down towards capacity, focusing on margin rather than volume."
It added that the figures did not reflect its overseas performance or that of its specialist arms.
Political unrest
In November, Thomas Cook's shares plunged 75% in one day after after it said it was in talks with banks about securing extra financing. It agreed funding of £200m a few days later.
The firm blamed a string of events for its financial troubles, including unrest in Egypt and Tunisia and floods in Thailand - all key destinations - for hitting sales.
The group, which has 1,300 outlets, has set out a turnaround plan for the UK business, including focusing on fewer and better quality hotels and a drive for more online bookings. It also plans to close 200 of its branches over the next two years.
Thomas Cook reported in its delayed final results that its UK business saw underlying profits fall 68% to £34.1m in the year after its margins slipped to just 1%.
Charles Stanley analyst Douglas McNeil said the latest sales figures were a concern, but that investors should not read too much into a two-week booking period.
"It would be unwise to place too much emphasis on a snapshot of trading over a very short period of time," he said.
"Nor does this data square very well with the notion that customers are fretting about Thomas Cook's solvency, given that its December bookings were relatively strong."