Asda to create 5,000 jobs in 2012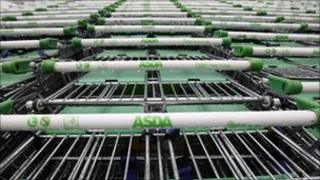 Supermarket chain Asda has announced plans to open 25 new stores and three depots, creating 5,000 jobs this year.
There will be a new depot in Rochdale, an existing one in Falkirk will be replaced and one in South Elmsall in Yorkshire, which was bought from Netto, will be revamped.
It also plans to extend and refurbish 43 of its existing stores.
Asda, which is based in Leeds, currently employs 180,000 staff across 528 stores and depots in the UK.
Asda is the UK's second biggest supermarket chain, behind Tesco. It is owned by the world's biggest retailer, US firm Walmart.
Asda said the jobs would be part of a £500m expansion drive, which would increase its selling space by 600,000 square feet.
It said that the new depots would reduce the distance travelled by its delivery drivers by one million miles a year.
It follows a big year of expansion for Asda in 2011, as it converted the UK stores of the Danish discount retailer Netto, which it had bought for £778m.
Asda has not yet released any figures on its trading over Christmas, but earlier in the month Tesco said it had been disappointed by its own Christmas trading.
Tesco shares fell 16% on the day it warned that a planned increase in investment meant it would only see "minimal" profit growth in the year ahead.