Olympus shares surge after it avoids being delisted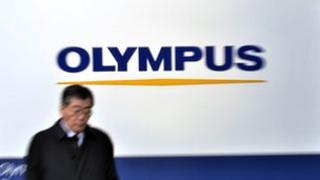 Shares of Japanese camera company Olympus jumped more than 8% after it was allowed to continue trading on the Tokyo Stock Exchange (TSE).
The TSE said on Friday that the company at the centre of a $1.7bn (£1bn) accounting scandal would not be delisted.
It did impose a minimal fine of 10m yen ($130,000; £83,600) and put the company's stock "on alert".
The decision means Olympus will still be able to access equity capital.
Olympus was first put on a watch list for possible delisting on 10 November after it admitted to hiding losses from investments.
Some 135bn yen in losses was kept off its accounts books for almost two decades, the company said.
However, the TSE concluded that there had been "generally no effect on sales or operating profit", and that investor judgement was not "considerably distorted".
It did however put the stock on alert, which means it has to submit annual reports to the TSE on how internal controls are being improved. After three years if there is no improvement, the shares are at risk of being delisted.
Olympus said it accepted the decision by the TSE.
"We sincerely accept the Tokyo Stock Exchange's decision and will move forward with drastic reforms to regain trust as soon as possible," Tsuyoshi Kitada, a spokesman at the firm, told Reuters news agency.
The company has lost about 50% of its market value since the scandal was brought to light in October by former chief executive Michael Woodford.