Italy approves sweeping reforms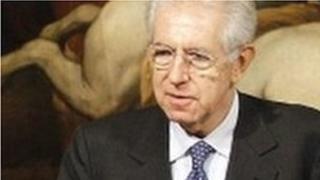 The Italian government has approved a controversial series of reforms designed to boost its ailing economy.
Measures include allowing more taxi licences and permitting pharmacists to give discounts on some medicines.
The government's aim is to end restrictive practices and increase competition, but critics say small businesses will be harmed.
Earlier, Italy unveiled a 5.5bn euro ($7.1bn; £4.57bn) package for investment in infrastructure.
It will pay for railway lines in the less affluent south, public housing and new schools.
The money is in addition to 4.8bn euros approved in December for road-building projects and high-speed railways.
The Bank of Italy forecasts the economy will contract by up to 1.5% this year. A report due to be published by the IMF next week will predict an even bigger contraction of 2.2%, unconfirmed media reports suggest.
Union anger
"The cabinet today adopted a draft bill with a package of structural reforms for growth," Prime Minister Mario Monti said.
"The Italian economy has been held back for decades. More competition means more openness, more space for young people, less space for privileges and rent-seeking, more space for merit."
Taxis, pharmacies, local public transport, petrol stations, lawyers, doctors and dentists have come under the government's scrutiny.
But taxi drivers and trade unions are angry about the move to boost the number of taxi licences.
Taxi drivers say there are enough taxis and competitors are not welcome.
Taxi unions have called a national strike of taxi drivers for Monday.
Under the plans, more chemist's shops will be allowed to open and their working hours liberalised, while minimum fees for doctors and lawyers will be scrapped.
Another measure is to allow petrol station operators to choose whom they buy fuel from.
Standard and Poor's cut Italy's rating by two notches last Friday to BBB+, citing concerns over the economic outlook, and Fitch Ratings has warned it could do the same by the end of the month unless progress is made.