Top tips for selling your old mobile phone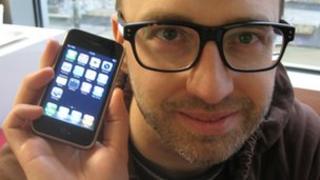 Millions of old mobile phones languish in cupboards and drawers across the UK, and there are dozens of websites that will offer you cash for old handsets - but are you getting a good deal? Radio 4's Money Box reporter Mike Wendling investigates.
In offering money for a used, often useless phone, mobile phone 'recycling' companies - they usually sell-on rather than recycle your handset - seem to provide a near-magical service.
The process seems simple. Customers enter the make and model of their phone, its condition, and some personal details into a website.
A quote appears and the company sends out a freepost envelope.
Pop the phone in the envelope, send it back to the company and within a few days the money arrives via cheque or in your bank account.
At least, that is how it is supposed to work.
But if customers are not careful they can end up with a bad deal - or nothing at all.
To test the market I searched online and found what appeared to be a good offer: £65 for my old phone - a handset I had bought three years ago.
I posted it and waited for the bank transfer.
But after Cash4Phones examined my used phone, I received an email informing me that "excessive wear and tear" meant the company could only give me £39.33.
I had five days to accept.
After I complained - the phone is virtually free of scratches and the screen is intact - the company upped its offer to the original price.
Best deal
On one popular phone recycling forum, we found close to a hundred similar complaints about Cash4Phones offering less than its original quote because of "wear and tear" - far more than nearly any other company.
Most of the complaints appeared to be resolved on the forum after Cash4Phones increased its offer, and the company says online forums are skewed towards people who are dissatisfied.
It says it has many more customers who are perfectly happy with their service and who do not complain.
But finding that a recycling company offers less than its original quote once it receives the phone is common.
Brian Turner of Techwatch.co.uk says a significant proportion of phones offered to recycling companies get lower offers when the company cites some kind of damage.
One study done by a recycling company two years ago found that about 20% of phones were marked down in this way, Mr Taylor says.
To find out if I could get a better deal for my phone, I had it posted back from Cash4Phones - paying a £4.95 shipping fee - and I touted it around various pawn shops and second hand phone dealers in west London.
The most common offer was £50 - several businesses offered me cash with only a cursory inspection of the phone.
But the best deal came from CeX, a firm with both High Street shops and a website - webuy.com.
Their price? £61, plus another £25 if I could find the charger.
Millions of unwanted mobiles
Online auctions might be a way to get even more money.
Judging by recent sales on eBay, I might net more by selling my phone this way - although eBay's listing fees would eat into the profits.
With increasingly clever smartphones urging more and more mobile users to upgrade their still-functioning phones for a more up-to-date model, the phone recycling industry has been booming.
Keir McConomy, managing director of mobile phone recycling site SellMyMobile.com, estimates there are about 70 million unused mobiles hiding in cupboards and drawers in the UK.
The average value of a phone traded in through SellMyMobile last month was £89.
"It is important for customers to make sure they deal with a trusted company, because they're sending a valuable piece of equipment," he told Radio 4's Money Box.
"It can be a problem because people may just see a website offering them a price.
"If they are not using a comparison site or doing their own research, it's not always clear which are the good quality companies."
The vagaries of the postal system can add a further risk.
"We would always advise people not to use the recycling company's freepost address, but to send their phone special delivery - that way they have proof that it's delivered, and it's insured and tracked."
Scam companies
As our unscientific test found, prices and offers can vary, but phone sellers have also been stung by outright scams.
Money Box spoke to customers of two related sites, Fonecraze and Skyphones, which apparently stopped trading last year.
Several customers did not get their phones back - nor did they get any money in return.
The companies were formerly based in Eltham in south east London.
Greenwich Council Trading Standards officers said they had been investigating the websites but before any action could be taken, the companies disappeared from offices on a trading estate.
Attempts by Money Box to contact the company directors were also unsuccessful.
For the altruistic, there is the option of donating old phones to charity.
Some charities can actually put the phones to use, while most will generally go through similar channels as consumers to sell the handsets for cash.
Whichever option you choose, industry experts advise sellers of mobile phones to take the same precautions as online buyers - read online reviews, look for personal recommendations and take the time to shop around for the best price.
Money Box is on BBC Radio 4 on Saturday, 21 January at 12:00 GMT and repeated on Sunday, 22 January at 21:00 GMT. Listen via the Radio 4 website or download the Money Box podcast.