Small firms urged to be brave and bold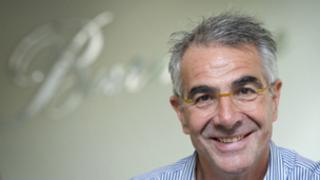 When you find out how much Dieter Burmester charges for his hi-fi systems you may have to utter an expletive.
The founder and owner of German audio business Burmester, his top of the range CD system costs 150,000 euros ($194,000; £125,000).
Yes, 150,000 euros… but that does include the speakers.
Selling "a few thousand units per year" to very wealthy music lovers around the world, Mr Burmester's 35-year-old business is rather a long way from the mainstream.
His advice to anyone starting up a new business is to follow the same path.
"Be convinced of your own idea, no matter what others say. Go your own way," he says.
"Have the courage to find individual solutions. Maybe you don't get the big market, but a small portion where no-one else is, so you don't have the competition."
'Only strategy'
With the wider European economy in the doldrums, and unemployment stubbornly high, many commentators have called on governments to do all they can to help boost business start-ups.
As countries continue to focus on reducing their sky-high sovereign debt, helping entrepreneurs thrive is seen by many as the best possible way to lift economies in the face of reduced public spending.
UK Prime Minister David Cameron has certainly put forward this argument, saying last year that supporting entrepreneurship was the "only strategy" for growth.
Yet what exactly can governments do to best help small firms proper and grow?
And is it ever a good idea to start up a new business in a time of economic uncertainty?
Niche product
Mr Burmester, who has a workforce of 50 people, says making a success of a new venture in the current economic climate particularly depends on the uniqueness of your product or service - you have to stand out from the crowd.
"I think it is important to have the courage to find individual solutions," he says.
"Of course we live in difficult times, no-one knows right now what is the good thing to do, even governments don't know.
"Yet launching a business during hard times will certainly toughen you, and if you survive, your future can only be brighter."
Mr Burmester adds: "You simply have to be willing to adapt to difficult circumstances and find solutions."
Economist Brian Morgan, professor of entrepreneurship at Cardiff Metropolitan University, and co-founder of Welsh whisky business Penderyn Distillery agrees that such nimbleness is vital for any firm starting out in the current economic climate.
"You always have to remember the 'pests', the political, economic, social and technical problems you never thought would hit you," he says.
"For example, when we set up the distillery, our plan was to make and sell vodka and gin while the whisky was maturing.
"We had a detailed business plan, and we were going to target the duty-free market. Then suddenly, the European Union banned duty free sales across Europe, and all our analysis and plans had to be changed pretty quickly.
"This is an example of a pest, and one of them will undoubtedly hit every new firm. And when the economic backdrop is weak, it could hit you harder. You have to be prepared."
Advertising ban
Armelle Falcy-Cruse's small business has certainly stood the test of time. She is general manager of Chateau De Taillan, a vineyard in France's prized Bordeaux wine-making region, which her family has owned since 1896.
Ms Falcy-Cruse says the French government needs to substantially prune what she sees as excessive rules and regulations.
She says: "It is true that we have a lot of taxes in France, but the laws are as bad.
"Sadly we have to think long and hard about hiring people, because in France there is big protection for the workers. And if you hire someone and it doesn't work out, it is not easy to go back."
Ms Falcy-Cruse adds that France's blanket ban on alcohol advertising is also a great frustration.
"It makes it very difficult for wine-makers to communicate with potential customers. It is also silly, because wine is not beer - we are not targeting young, excessive drinkers.
"Wine is instead part of France's gastronomy, part of the country's rich history."
Back across the English Channel, Nikki King, chief executive of truck firm Isuzu Truck UK, is happy to show that a perception of being held back by excessive regulation is one thing British and French firms agree on.
"We are completely hidebound by some pretty crazy employment and health and safety regulation," she says.
"When I talk to colleagues in France, they say it is worse there, but the UK is certainly getting as bad.
"If governments want to boost entrepreneurship and job creation in the private sector they really do have to start cutting all this back. Because firms, and especially smaller ones, are now increasingly reluctant to take on new staff.
"This is because they know that if anything goes wrong, it is so difficult to make people redundant. It is completely and utterly crazy."
Teaching need
For computer games entrepreneur Ian Livingstone, life president of games publisher Eidos, governments need to ensure that children are taught computer programming in school.
Mr Livingstone, who co-founded the Games Workshop retail chain, and was one of the people behind the Lara Croft Tomb Raider games, says: "Computer games are often not given much thought by governments, but it is the largest entertainment industry in the world.
"Annual sales of games alone total more than $50bn (£32bn), and the industry needs skilled workers."
However, at the same time, he says the games industry in the UK also has to change and help itself it is wishes to grow and create more jobs.
"Firms are often not so good in keeping hold of their IP (intellectual property), they sell out too soon.
"Instead we need to be able to scale up our companies in the computer industry, otherwise we'll never compete with the US giants like Google and Twitter."
Failure rate
So can a big growth in the number of successful small firms transform economies across Europe?
Not in the short or even medium-term cautions Prof Morgan.
"You have to remember that 60% of small firms fail within six years. And only 2% on average will grow to employ more than 25 people," he says.
"Many small firms are instead lifestyle business, started by people who want to work for themselves, but have no desire to build up a workforce.
"Governments instead need to target firms that have been around for four to five years, and have the potential for serious growth."