Freeport sees profits dip 59% as Indonesia strikes hurt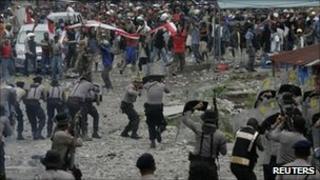 The US mining giant Freeport-McMoran has reported a 59% fall in fourth quarter profit as strikes at its Indonesia mine hit production.
The company reported a profit of $640m (£413m) during the period, down from $1.55bn a year earlier.
Freeport's copper and gold mine in Indonesia was hit by a three-month long strike last year due to wage disputes.
However, for the full year, it made a profit of $4.6bn, up from $4.3bn in 2010.
Richard Adkerson, chief executive officer of Freeport said the earnings "were unfavourably impacted by disruptions at our Grasberg operations in Indonesia".