General Motors reclaims world's top vehicle-maker slot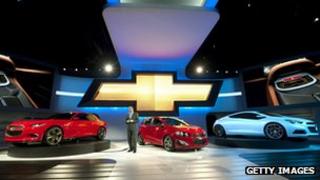 General Motors (GM) has regained its slot as the world's biggest vehicle maker in a dramatic turnaround for a firm that was facing bankruptcy just two years ago.
GM said it sales rose 7.6% last year to more than 9 million vehicles.
Toyota, which displaced GM as the world's top automaker in 2008, expects sales of 7.9 million in 2011.
Toyota's numbers were dented when natural disasters in Japan and Thailand disrupted factories and suppliers.
Rival claims?
The numbers have triggered claims from GM's rival Volkswagen that it was in fact the world's biggest vehicle maker.
According to the Wall Street Journal, the German firm said that GM's numbers were boosted by adding sales of its Chinese partners.
Volkswagen argues that its own numbers did not include those of truck makers MAN and Scania in which it has majority stakes.
Volkswagen sales for 2011 stood at 8.1 million vehicles.
Analysts said the numbers could be interpreted in different ways.
They explained that vehicle manufacturers often make investments in numerous other producers across the globe.
The decision on whether or not to include sales figures from these partners or subsidiaries would depend on how involved the vehicle maker was in their operations.
"If GM have added figures of companies in China, which they are pretty much a part of in terms of day-to-day running, then there is nothing wrong in it," Vivek Vaidya of Frost & Sullivan told the BBC.
"But if they have also included numbers of manufacturers where they just have a passive investment then it is wrong."
'One indicator'
GM emerged from bankruptcy in 2009 after a $52bn (£34bn) taxpayer-funded bailout. The US Treasury still owns more than 30% of GM's ordinary shares.
It has since focused on boosting its share in some of the fastest-growing markets in the world, such as China and India.
Last week, the US vehicle maker said sales of its vehicles and those of its partners in China rose 8.3% to a record high of 2.5 million cars in 2011.
Dan Akerson, chief executive of GM, said that strong sales were a key part of ensuring the company remained profitable and continued to invest in new products.
"You're not going to achieve the financial goals we want to achieve and have declining market share or declining numbers of units sold," he said. "So it's one indicator among many."