Republic of Ireland's bailout 'is on track'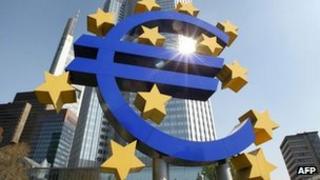 The Republic of Ireland's bailout programme is on track, but there are challenges ahead.
That is the verdict of officials from the EU, European Central Bank and International Monetary Fund one year into the 85bn euros rescue package.
In the past year, the Irish government has implemented over 90 actions as part of its recovery programme.
These include bringing in an austerity budget and continued reform of the banking sector.
However, the so-called troika of officials said Ireland faced "considerable challenges", due to weak domestic demand, high unemployment and slowing growth with its trading partners.
As a result, growth forecasts for the economy have been cut from 1% to 0.5%.
The troika prescribed sticking closely to the bailout conditions as the way to sustain recovery.
As part of those conditions, the Irish government is committed to selling off a proportion of state-owned companies, which may include Aer Lingus and energy companies ESB and Bord Gais - although no deadline has been set for this.