Australia's job growth falls to 19-year low in 2011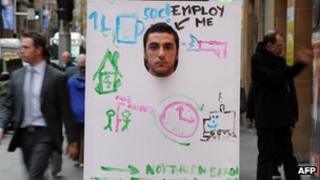 Australia's job growth has dipped to its slowest pace in 19 years raising fresh concerns about a slowdown in the country's economy.
The total number of people employed grew by 25,900 or 0.2% last year, down from 3.3% in 2010.
The fears were fanned further as the Australia Bureau of Statistics reported that the economy shed 29,300 jobs in December.
Analysts said the weak numbers may see the central bank cut interest rates.
"The bottom line is that it (the labour market) clearly has softened during the course of the year," said Michael Blythe, chief economist of Commonwealth Bank of Australia. "With a weakening labour market it's an environment which favours lower interest rates."
The Reserve Bank of Australia (RBA) has already cut interest rates twice in the past two months.
'Confusing mix'
However, the latest data from the statistics bureau has got some analysts to raise doubts about the numbers.
While the bureau said in its report that 29,300 jobs were lost during the month of December, it also maintained that rate of unemployment remained unchanged at 5.2% from the previous month.
"A very confusing mix, with huge swings in components, net job losses but falling unemployment as well, and when you get that mix you need to be a little suspicious about the numbers," said Mr Blythe.
Some analysts said the explanation of that could be the fact that some people may have given up looking for jobs and therefore are not counted as part of the labour force thus helping to keep the unemployment rate steady.
When contacted by the BBC, the Australia Bureau of Statistics confirmed that this could be a "possible reason".
"These are really messy numbers with a lot of noise in them," said Brian Redican of Macquire.