Indonesia regains investment grade from second agency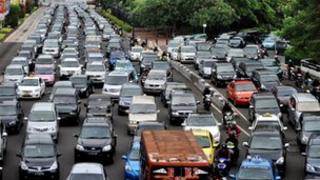 Indonesia has won a second credit rating upgrade in as many months, as Moody's ratings agency restored its debt to investment grade.
Moody's raised the rating to Ba1 from Baa3 with a stable outlook.
It comes after Fitch ratings agency made a decision in December to return Indonesia to the level it lost after the Asian financial crisis.
The stamps of approval are likely to bring much foreign investment into south east Asia's biggest economy.
Moody's attributed the decision to upgrade to Indonesia's success in shrinking its debt-to-gross domestic product ratio.
"Indonesia's cyclical resilience to large external shocks points to sustainably high trend growth over the medium term," said Moody's in a statement.
"A more favourable assessment of Indonesia's economic strength is underpinned by gains in investment spending, improved prospects for infrastructure development following key policy reforms, and a well-managed financial system," it added.
Strong boost
The Indonesian central bank has applauded the move by the ratings agency saying it will greatly benefit the nation.
"A stable outlook will attract investors back to Indonesia not only in bonds and stock markets, but foreign direct investment will also increase," said Hartadi A. Sarwono, deputy governor of the Indonesian central bank.
The boost from Moody's was expected and will also decrease the country's borrowing costs to build infrastructure, something the current government has said the country is in dire need of.
Indonesia's credit rating is now at the same level as India's.