Most former Woolworths stores re-let, report says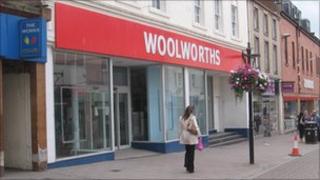 The majority of stores once belonging to defunct retailer Woolworths have now been re-let, according to research.
Just over three years after the High Street giant's demise, 703 of its 807 stores - 87% - are re-occupied, said a report by the Local Data Company (LDC).
Iceland and Poundland have taken 7% each, with 99p Stores taking 6%, said LDC, which tracks the retail sector.
It said the high number of empty shops on the High Street had made it easier for traders to move to prime locations.
The stores appear to have been gradually filled, with the number of empty former Woolworths shops standing at 13% (104) now, compared with 30% a year ago.
In August 2010, 40% of locations remained empty, and in July 2009 70% were unfilled, according to previous studies.
Discounters and supermarkets
Discounters (29%) and supermarkets (17%) have taken on most of the stores, LDC said.
However, there has also been a sharp rise in the number of former Woolworths stores that have been demolished, from 1.3% in January 2011 to 8.4% this month.
The retail tracker said this could be connected to the abolition of empty property rates relief.
Woolworths went into administration late in 2008 after facing increased competition from supermarkets and online retailers. More than 27,000 people lost their jobs following its collapse.
The Woolworths vacancy rate compares with just over 14% for the rest of the UK high street.
'Encouraging'
Matthew Hopkinson, director at LDC, said: "It is encouraging to see 87% of the old Woolworths shops now occupied.
"It reflects the fact that Woolworths was once the anchor store in many centres and that the current market has enabled greater opportunity for retailers to relocate to more prime locations due to high shop vacancy rates."
Mr Hopkinson put the "significant rise" of demolished properties down to the government's abolition of empty property rates relief last April and the state of the market in locations where there is little or no retail demand.
The best take-up of old Woolworths is in Yorkshire and Humber at 95%, while Northern Ireland has the lowest with 38% of stores there still left to find a tenant, LDC said.