eBay reports jump in its profits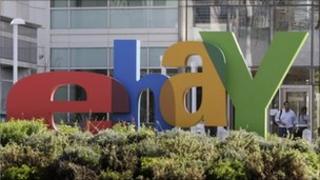 The internet auction site eBay has reported a big jump in its quarterly profits.
Net income for the last three months of 2011 came in at $1.98bn (£1.28bn), up from $559m in the same period last year.
"We had a strong fourth quarter finish to an excellent year," eBay president John Donahoe said in a statement.
EBay said its earnings growth was partly driven by a gain from the sale of its remaining stake in Skype.
Microsoft's $8.5bn acquisition of Skype was announced in May and cleared by competition authorities in October.
Excluding exceptional gains such as the sale of Skype, eBay's profit from the quarter would have been $789m.
The company's shares rose to $30.93 in after-hours trading, having closed regular trading at $30.43.
EBay's results were also boosted by strong performance from its online payments unit PayPal.
"We are a different eBay today, no longer just an e-commerce leader but a stronger, more diverse global commerce company shaping the future of shopping and payments," Mr Donahoe said.