Direct Line and Churchill fined for file tampering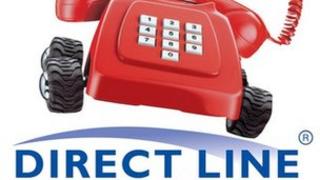 Insurance firms Direct Line and Churchill - both owned by RBS - have been fined £2.17m for tampering with customer complaint files before submitting them to the Financial Services Authority (FSA).
The FSA said the changes were "minor" and had not affected customers.
However, it said the action was still a serious breach of its rules.
"The firms' attempt to ensure that complete files were provided to the FSA backfired," the FSA said.
Tracey McDermott of the FSA said: "The firms failed to give clear instructions resulting in staff making inappropriate alterations with one individual even forging the signatures of colleagues.
"The firms' management did not know what changes had been made or when [but] it is of critical importance that material provided to the FSA must reflect the picture as it is - not as they might like it to be," she added.
Paul Geddes, chief executive of RBS Insurance, said: "We very much regret the findings of the FSA investigation."
"Although no customers were disadvantaged, we are very disappointed that we did not meet the standards we expect of ourselves and which the FSA expects of us."
Altered files
The file-tampering happened when the insurers tried to deal with the FSA's continuing inquiries, which have been underway for the past three years, into the way financial firms deal with customers' complaints.
RBS itself was fined £2.8m in January 2011 for failing to deal adequately with routine complaints from its banking customers.
In the case of the bank's insurance subsidiaries, the FSA had, in early 2010, asked for a sample of 50 complaints to be sent to it, so it could review how they had been handled.
Before handing them over, the insurers management asked external accountants to carry out their own review of a sample of complaints, and found that 28% were likely to fail the FSA's assessment.
Both Direct Line and Churchill decided to look at closed complaints to make sure they were complete and they told their staff to make sure the files would pass muster.
But when the FSA received its sample of 50 files in April 2010 it was informed that some might have been altered or "created".
Closer scrutiny revealed that 27 of the 50 had been tampered with, and seven contained signatures of employees, which had been forged by one member of staff.
"In this case, the alterations did not impact on the FSA's ability to do our job," the FSA said.
But it decided that the insurers had failed to carry out their duties with the required "skill, care or attention".