Goldman Sachs cuts pay and bonuses as profits halve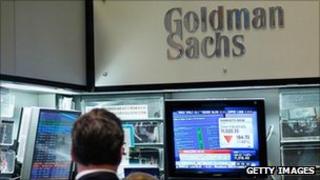 US banking giant Goldman Sachs has cut its pay and bonus payments during 2011 - to $12.2bn (£7.4bn).
It said its total compensation - including staff bonuses - was down 21% from 2010.
The bank also said that its quarterly profits had more than halved from the previous year, but still beat analysts' forecasts.
Net income for the last three months of the year fell 58% to $1.01bn from the same period a year earlier.
In the whole of 2011, Goldman said that it made 47% less in profits than in 2010.
Weak US growth and uncertainty about European sovereign debt has hit banks hard globally.
The bank said that it had cut total staff numbers by 7% in 2011 - to 33,300 people, meaning the average compensation per member of staff is about $366,360.
'Concerns'
"This past year was dominated by global macro-economic concerns which significantly affected our clients' risk tolerance and willingness to transact," said Goldman chief executive Lloyd Blankfein.
Goldman also said that the UK bank payroll tax - the 50% tax on bankers' bonuses levied by the previous Labour government for one fiscal year - cost it a total of $465m in 2010.
That helped push up its effective tax rate up to 35.2% in 2010, and it had dropped to 28% last year.
On Tuesday, US rival Citigroup reported a profit of $11.3bn for 2011, up 6% on the previous year.
Last week, JP Morgan started earnings season also reported a drop in fourth-quarter profits.
The bank made a profit of $3.7bn in the period, down by almost a quarter on a year earlier.