Trade unions: Not dead yet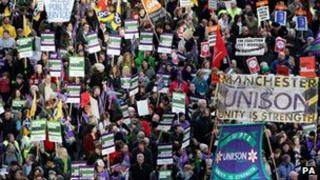 We've all seen the trend - trade union membership numbers are falling, and unions wield less power.
Well, there is no denying the first half of that story is true - in 1979 some 13.5 million workers in the UK were members of a union; today that figure is about 6.5 million.
But big turnouts seen at recent strikes and demonstrations suggest that the power of trade unions is not quite coming to an end just yet.
Take for instance, the national strike by public sector workers that took place on 30 November last year. Up to two million workers walked out, protesting against changes to their pension schemes, marking the biggest stoppage seen in the UK in decades.
Prime Minister David Cameron initially said the day of action had been a "damp squib" but later described it as a "big strike".
In the private sector too, workers at Unilever are currently in the middle of 11 days of strike action over the company's plan to shut their final-salary pension scheme. It comes hot on the heels of the first national strike in Unilever's history last month, when more than a third of its workforce walked out.
Concessions won
Unions are always keen to stress that taking industrial action is a last resort. But at the same time they are also adamant that when they do use it, it is because they believe it will have an impact on negotiations with the employer.
"The industrial action by public sector workers on 30 November undoubtedly had an impact on negotiations," says Paul Nowak, head of organisation at the Trades Union Congress (TUC), which represents 58 unions with 6.2 million members.
Despite Chief Secretary to the Treasury Danny Alexander describing the strike as an "unnecessary interruption", Mr Nowak points to changes to accrual rates - the rate at which a pension builds up - and protection for people within 10 years of retirement as concessions that were made after the day of action.
John Kelly, professor of industrial relations at Birkbeck College, agrees that the government has made some concessions that he does not think they would have done without the strike.
"One might have thought the unions had no hope going up against a government with a majority [in Parliament]," he says.
"But the government's gone from saying they were willing to make small concessions and that's it, to making some pretty significant changes over the last nine months. They realised they needed to reach agreement with the unions."
'Incredibly damaging'
However, Clive Rich, who has negotiated deals at major organisations and multinational companies, disagrees, describing the concessions the government has made as "pretty minor".
In fact, he believes that strike action in general is often more effective as a threat than a reality. "If you do it too early in the negotiation process, you risk getting everyone offside. Once you've implemented that threat, where do you go from there?"
Corin Taylor, senior economic adviser at the Institute of Directors, which represents business leaders, adds that strikes are "incredibly damaging" to both businesses and consumers.
"There is of course a positive role for unions in representing employees in a fair and open way, but the recent strike action over public sector pensions and the Boxing Day Tube strikes were examples of union intransigence that will do the economy no favours," he says.
Failed to keep up
The TUC's Mr Nowak is the first to admit that if you just look at the membership numbers then, yes, unions are less influential than they were 20 years ago.
But he points out that the steepest falls in union membership came between 1979 and 1998, when unions were affected by a series of legislative changes which included ending the closed shop - an agreement under which employers agreed to hire union members only.
Since then, numbers have been pretty stable.
However, he also admits that unions "haven't kept up with changes in the economy".
While industries that have traditionally been highly unionised, such as manufacturing and engineering, have declined, workers in new and growing industries in the private sector have not sought union membership.
For instance, despite growth in the retail sector, only one in 10 retail workers belongs to a union.
"However, that's not because people see unions as irrelevant," says Mr Nowak, "but often because in new industries with no history of union membership, they don't know what we do.
"Our job is to go into workplaces and convince them of the benefits, whether that's helping people to access skills and training, or bargaining on their behalf."
One union that has seen relatively fast growth over the past 10 years though is the National Union of Rail, Maritime and Transport Workers (RMT), led by Bob Crow, seen by many as the most militant of union leaders in the country.
Since he became general secretary in 2002, the RMT's membership has risen from 57,000 to more than 80,000 today, suggesting that his style of leadership - he's never afraid of threatening strike action - may be seen as effective to his members, even if it is loathed by the general public.
Public v private sectors
So what role will unions have to play in the future?
Firstly it is important to distinguish between the private and public sectors. Union influence is much diminished in the private sector, with fewer members and far fewer working days lost to industrial action compared with 30 years ago.
Prof Kelly at Birkbeck College believes that the strikes at Unilever are unlikely to buck the long-term trend and lead to an increase in union membership or action in the private sector.
For one thing, he says, the issue at the heart of the dispute - the closure of the company's final-salary pension scheme - is irrelevant to many in the sector as many firms have already closed their final-salary schemes.
But he says that while union numbers will continue to shrink in the private sector, they will remain "well entrenched" in the public sector.
And he believes that public sector strikes, when used, can be effective as many of these workers are highly skilled and hard to replace, unlike when there is a strike in, say, a small factory, where the employer could bring in back-up staff.
Softer approach?
Clive Rich says there is still a place for unions, but they ought to take a less confrontational approach in bargaining.
"Negotiation generally has changed," he says. "Especially with the tough times after the recession - [it has shown] we all need partners. So it's about collaboration negotiation rather than confrontation negotiation."
But given that many people are currently experiencing times of hardship, Geraldine Healy, professor of employment relations at Queen Mary, University of London, says that the role of unions is particularly important.
"At the moment there's a really strong sense of injustice in society and people are looking for different ways of reducing that level of injustice. Trade unions are one of the key ways of doing that," she says.
One thing is for certain - unions aren't disappearing any time soon.
"We are the largest democratic civil society movement in the country," Mr Nowak asserts.
"We've shown that we have got influence. We're an important force and we're here to stay."