Pub chain JD Wetherspoon sees sales rise 3.6%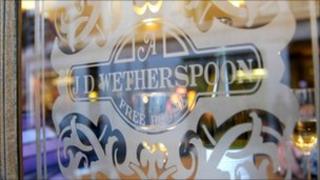 Pub chain JD Wetherspoon says trading has remained "resilient" after reporting an increase in sales.
Like-for-like sales in the three months to 15 January grew by 3.6%, but the chain said the increase was mainly because the bad weather of a year ago had held trade back.
JD Wetherspoon opened 18 new pubs over the year and closed two. Including these changes, sales rose by 9.9%.
The chain said it still planned to open a total of 50 pubs this year.
It repeated its warning that profit margins would be squeezed over the year by higher costs.
JD Wetherspoon said that sales, profit and cash flow were "resilient", although it said challenges were presented by government legislation, such as rises in excise duty, business rates and carbon tax.
Chairman Tim Martin also repeated his criticism of pubs having to pay higher VAT on food than supermarkets.