Citigroup posts 2011 profit rise but suffers in quarter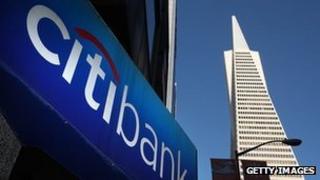 US banking giant Citigroup has reported a profit of $11.3bn (£7.3bn) for 2011, up 6% on the previous year.
However, fourth-quarter profit fell 11%, as revenue declined on the back of slower capital markets and rising operating expenses.
The third-largest US bank by assets reported net income of $1.16bn (£753m), down from $1.31bn a year earlier.
Separately, Wells Fargo bank reported a 21% rise in final quarter profits to $4.1bn against a year ago.
It highlighted an increase in loans and deposits as a reason for the improved performance.
Falling revenue
Citigroup's chief executive, Vikram Pandit, said: "Overall, we made solid progress in 2011."
He said the firm had "reached key benchmarks in our consumer businesses, showing our strategy is achieving results".
However, he acknowledged that the tough economic environment had affected some parts of the business.
Revenue at Citigroup in 2011 fell to $78.4bn compared with $86.6bn the previous year.
Revenues at the group's asset management and brokerage business fell by 33% to $12.9bn.
The results were worse than analysts had expected and Citi shares fell more than 5% in early trading on Wall Street.
Big US investment banks have been hit by the turmoil in global financial markets caused in part by the eurozone debt crisis.
"Europe remains a dark cloud," said John Gerspach, Citi's chief financial officer. However, he added that the bank had hedged its positions in the region well, and was "highly confident" losses would be contained.
Late last year, Citi said it would cut 4,500 jobs around the world to reduce its costs.
Last week, JP Morgan also reported a drop in fourth-quarter profits.
The bank made a profit of $3.7bn in the period, down by almost a quarter on a year earlier.