Unilever workers to start 11 days of pension strikes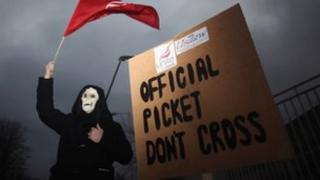 Thousands of workers at consumer goods giant Unilever are starting 11 days of strike action over changes to their pension scheme.
Members of the Unite, Usdaw and GMB unions are opposing the company's plan to shut their final-salary pension scheme later this year.
The strikes will take place on various days between 06:00 GMT on Wednesday and 28 January, at 12 different sites.
The company said its new scheme would still be "exceptionally competitive".
The closure of the current final-salary scheme to existing staff - which has 5,000 active members - was first proposed last April with the aim of shutting it this January.
The company said it needed to change to a career average scheme to curb the rising cost of funding staff pensions, which has been driven up by rising longevity and volatile investment returns.
After consultation with staff, the closure date was put back to 1 July 2012, but the alternative, of staff contributing to a career average scheme instead, is still in place.
As of 31 March 2010 the scheme, which was closed to new joiners in 2008, had a deficit of £680m.
'Robbery bandwagon'
The unions say the strikes at sites across the country will hit production of goods such as Marmite, Colman's mustard, PG Tips, Dove soap, Pot Noodle, Persil, Lynx, Wall's ice cream and Hellman's Mayonnaise.
In December, 2,500 workers out of a workforce of 7,000 took part in a strike over the pension changes, which was the first national strike in Unilever's history.
BBC industry correspondent John Moylan said the industrial action starting on Wednesday marked a major escalation in the long-running dispute.
Factories across the country will be hit by the stoppages, including Port Sunlight on the Wirral, Warrington, Norwich, Leeds, Gloucester, Trafford Park in Manchester, Purfleet in Essex, Burton on Trent, and Crumlin in Gwent.
Allan Black, a national officer of the GMB, said the company had clambered on the "pensions robbery bandwagon".
"Unilever should heed their workforce and get back to talks - possibly under the auspices of Acas," he said.
'Broken model'
Unilever said in a statement that union representatives had decided to "walk away from talks".
"We believe the provision of final salary pensions is a broken model which is no longer appropriate for Unilever," it said.
"It is our responsibility to protect the long-term sustainability and competitiveness of our business, and to do so is in the best interests of our people."
The chairwoman of Unilever UK, Amanda Sourry, said it was "not clear how the dispute with the trade unions will be resolved".
She urged those taking industrial action to reconsider the new scheme.
Our correspondent said Unilever's actions reflected a wider demise in final-salary schemes.
According to the National Association of Pension Funds, almost a quarter of such schemes are now shut to both new and existing members. That figure was just 3% as recently as 2008.