Asia mixes old customs with making money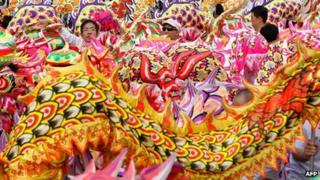 Tobias Chong will spend much of the next few weeks balancing a colourful lion's head while performing daredevil acrobatic feats to a cacophony of drums, gongs and cymbals.
His lion dance troupe will perform up to three times a day over the Chinese New Year period; scaring away bad spirits and summoning good luck in Hong Kong's malls, office blocks and hotel lobbies.
Businesses are particularly keen to maximise their good fortune in the Year of the Dragon, which begins on 23 January and is regarded as one of the most auspicious Chinese astrological signs.
"It's our high season," he says. "During Chinese New Year we will do around 100 performances."
The practice, common throughout Asia, is just one example of how old customs and ancient beliefs mix with the more modern pursuit of making money.
Companies also pay heed to feng shui, the Chinese system of improving luck through the positioning of objects and predicting fortunes through dates and traditional Chinese texts.
And the multi-national companies that do business in the region are increasingly finding that they have to take such matters seriously.
Old and new
Kerby Kuek, a Malaysian Chinese now living in Hong Kong, personifies Asia's embrace of the old and new in its approach to doing business.
He holds an MBA and spends half his time advising clients on their portfolios at a major Chinese bank where he works as a stock broker.
But Mr Kuek also runs a successful feng shui consultancy, writes a weekly newspaper column and has published five books on the topic.
None of his bank colleagues find his dual career unusual.
"Most of them accept it," he says. "When they have a problem they will come to ask advice."
He says that 50% of his feng shui clients are companies.
In a typical case last month, he advised a factory owner in Shenzhen, across the border in southern China, to move his office to a different location to improve relations with workers and boost business.
"We moved the office to the south-west, which is where the metal element was located, and now the employees are much more co-operative and they have new leads on potential clients," Mr Kuek says.
Wind and water
The practice of feng shui dates back thousands of years. Its principles are applied by many Asian businesses and in many cities across the region.
The term feng shui translates as wind and water.
In Hong Kong, the entrance to HSBC's Norman Foster-designed headquarters are guarded by two stone lions, traditional symbols used to protect the wealth within. The building's open ground floor space also allows qi, or energy, to flow freely.
And one major brokerage issues a much-anticipated - albeit tongue-in-cheek - annual financial forecast based on the Chinese horoscope.
In Singapore, the spinning direction of the city's giant observation wheel was changed on the advice of feng shui masters, who said it was taking good fortune away from the financial district.
Companies also use auspicious dates for company meetings and announcements and include lucky numbers like eight, which rhymes with the Chinese word for prosperity, in stock listings codes and number plates.
On the flip side, many lifts in offices and residential buildings do not feature a button for the fourth floor as the number four rhymes with the Chinese word for death.
Necessary consideration
Mr Kuek says multi-national companies from the US, Canada and UK seek out his services and he has fielded enquiries from as far afield as Cuba and South Africa.
"To make their employees here comfortable, they will consult a feng shui master," he says.
"It's not that they necessarily believe in it but they take it into consideration."
Consultations are not cheap, starting at around HK$5 ($0.60; £0.40) to HK$15 per square foot and well-known feng shui masters charge more.
Mr Chong's lion dance group also counts many big-name western brands as customers.
They include jeweller Cartier and luxury fashion brands Dolce & Gabbana and Coach, which are going to great lengths to appeal to their growing Chinese customer base.
He says the brands like his group's more modern style of lion dance, which can feature hip hop moves and music.
"Sometimes I think foreigners find it even more fun," he says.
'Fake' feng shui
While there remains huge respect for feng shui in Hong Kong, some recent events have tarnished the reputation of some practitioners, with one feng shui master reporting last year that business was down 20%.
The biggest scandal involved Asia's richest woman Nina Wang, who died in 2007. Her feng shui master, Tony Chan, laid claim to her HK$50bn ($6bn; £4bn) fortune.
"That kind of feng shui is fake. He was not properly educated about feng shui," says Raymond Lo, a well-known local feng shui consultant.
"Some people can easily get cheated. The best idea is to study the subject properly."
In another case, a self-styled feng shui master was convicted of sexually assaulting a 20-year-old woman after painting her body red to exorcise an evil spirit.
The Hong Kong government also came under fire in 2010 for paying out millions of dollars to residents in compensation for public works disrupting feng shui.
However, the outcry was over officials being hoodwinked into paying more than they should have and not keeping records, rather than the actual payments.
Mr Kuek says the most demanding aspect of his job is dealing with unrealistic clients.
"Clients want immediate results... but it's a lot to do with attitude.
"You can make the changes but you still have to be proactive. You can't just sit and wait for the opportunities."