Standard & Poor's downgrades EU bailout fund EFSF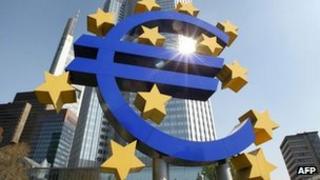 The credit ratings agency Standard & Poor's has downgraded the EU bailout fund to AA+ from AAA.
The European Financial Stability Facility's (EFSF) rating is based on the ratings of the countries that guarantee it.
S&P's downgrade of France and Austria on Friday meant there were not enough AAA rated guarantors for the fund to maintain its top rating.
The downgrade could affect the EFSF's ability to raise money cheaply.
S&P said the EFSF could regain its AAA rating if it obtained additional guarantees.
Alternatively, the fund could be endowed with less money, which would be better guaranteed.
The BBC's business editor Robert Peston says that, following the S&P downgrades, the bailout funds are endowed with what looks like a puddle or pond, rather than a great sea of money stretching beyond the horizon.
Earlier in the day, another ratings agency, Moody's, said it would allow France to maintain its AAA rating for now, although it warned that the deterioration in France's debt position was "putting pressure" on the country's stable outlook.
S&P cut its ratings for France, Italy, Spain, Cyprus, Portugal, Austria, Slovakia, Slovenia and Malta late on Friday.
The idea of the EFSF was for countries with top credit ratings to borrow money cheaply that they could then lend on to countries that were struggling.
But Friday's downgrade took away two of its six AAA rated guarantors.
That will reduce the fund's AAA rated guarantees from 440bn euros ($557bn; £364bn) to about 260bn euros.
About 40bn euros of that is already going on the bailouts of the Irish Republic and Portugal with another 100bn euros likely to be needed for the second bailout of Greece.