Past Times goes into administration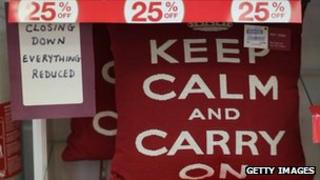 Past Times has appointed administrators from KPMG to try to sell the business as a going concern.
The retailer had already closed 46 stores, resulting in 507 redundancies.
The remaining 51 stores will continue to trade for now, although 30 people have been made redundant at its head office and another 37 at its warehouse.
The administrators said the remaining stores would enter a "closing-down mode", with "significantly discounted stock".
They added that there would be "an orderly wind-down in the event a going-concern sale cannot be concluded".
There are 500 employees at the remaining 51 stores.
There are 31 people still employed at the head office in Witney in Oxfordshire and at the warehouse.
"The loss-making business is a casualty of difficult trading conditions for the retail sector, which has seen discretionary spend fall as consumer confidence declined during the last year," the administrators' statement said.
Past Times was owned by Epic Private Equity, a firm specialising in "distressed" companies, which bought it out of administration for £7.75m in 2005.
It had announced its intention to call in administrators late last year, but then had to leave at least a 10-day gap before doing so.