London seeks major role in yuan trading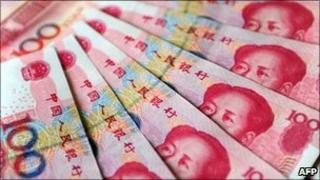 The UK Treasury has announced plans to make London the leading international centre for trading China's currency, the yuan, also known as the renminbi.
"London is perfectly placed to act as a gateway for Asian banking and investment in Europe," said UK Chancellor George Osborne.
Bankers say the plans could bring billions of pounds into the City.
China has been gradually relaxing strict controls on the value of its currency and on flows of capital.
Mr Osborne, who arrived in Hong Kong on Monday at the start of a visit to Asia, said he would be holding talks "on establishing London as the new hub for the renminbi market as a complement to Hong Kong".
The City, he said, as the world's largest centre for foreign exchange, was "uniquely placed to assist in the development of this exciting market".
Major currency
According to Treasury officials, the new partnership with Hong Kong puts London in pole position to be the major centre for trading the Chinese currency outside China and Hong Kong.
An intergovernmental agreement that London and Hong Kong would work together on yuan trading was reached last summer.
Following the relaxation of strict state controls, the yuan is set to become a major, globally-traded currency, in keeping with China's status as the world's second biggest economy.
A recent report by the Chatham House think tank forecast that trade transactions settled in the currency would reach around a trillion dollars (£650bn) by 2020.