Tottenham Hotspur delists shares from stock exchange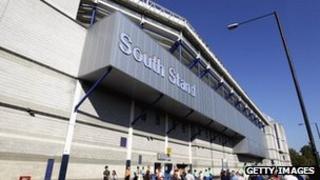 Football club Tottenham Hotspur has delisted its shares from the stock market and gone into private ownership.
It is part of the north London Premier League club's plans to raise funds for a new stadium.
The club confirmed that 13 January had been the last day of trading in its shares on the AIM index.
Last year, chairman Daniel Levy said delisting from the exchange would help it, as the listing restricted the club's "ability to secure funding".
Tottenham signed plans to redevelop their White Hart Lane ground in north London last autumn.
The club had also expressed an interest in taking over the Olympic Stadium, and a legal wrangle arose after West Ham United and Newham Council were awarded the stadium to use after the London 2012 games.
But in its latest financial results last October, Spurs said it was no longer interested in bidding for the stadium as a tenant, because the Olympic running track would be retained.
Instead, it said the club was actively consulting on plans to redevelop its existing ground.
The club is currently third in the Premier League and is mounting its strongest title challenge in many years.