Tax officers to hold lightning strike on Monday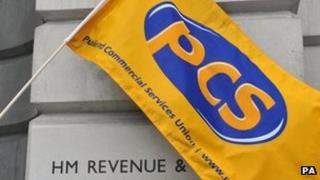 Some 20,000 staff providing advice on tax returns will hold half-hour walkouts on Monday over alleged moves towards privatisation.
The officers, who work at call centres and enquiry offices, are also planning more action on 31 January, the deadline for online self assessment returns.
The Public and Commercial Services Union said the strikes are against the government's hiring of two private firms in trials to run call handling.
HMRC denied any plan to outsource jobs.
The year-long trials are being held from February with two companies, Sitel and Teleperformance, at Lillyhall in Cumbria and Bathgate in West Lothian.
The PCS - the largest union representing civil servants - said the trials would pave the way towards privatisation in the department - a claim rejected by the tax office.
"The project is not about outsourcing or replacing HMRC jobs," a spokesman for the Revenue said. "It is ultimately about finding ways to improve the service we provide to our customers."
Staff will walk out for 30 minutes from 10:00 GMT, and again at 16:30 GMT. Those on late shifts will also leave half an hour prior to their usual 19:00 GMT finish.
"When jobs in HMRC and the civil service are being cut in their tens of thousands, it is entirely wrong to start handing contracts to private companies," said Mark Serwotka, general secretary of the PCS.
"Instead of privatising ever more of our public services, the government should be investing in its own staff to ensure they are equipped and trained to provide the essential services they are proud to deliver."