Green Deal 'means 1.5m homes lose insulation subsidy'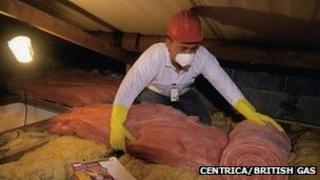 More than a million households will miss out on getting help to insulate lofts and cavity walls as a result of changes to government subsidies, research suggests.
Changes proposed in the Green Deal mean 1.5 million homes will no longer qualify, Europe Economics said.
It added the changes would deprive the UK economy of £5bn and cost the insulation industry 3,000 jobs.
The government said it had not decided yet what subsidies would be removed.
"The report does not include the fact that we are considering the extent to which loft and cavity wall insulation should be included under the subsidy - the Green Deal consultation is open until Wednesday," a spokesperson for the Department of Energy and Climate Change said.
"The Green Deal will be the most ambitious home improvement programme ever, generating demand for all types of insulation and increasing jobs in the energy efficiency industry to 65,000 by 2015."
The independent report was commissioned by Knauf Insulation.
Solar cuts
Under current proposals, the Green Deal, due to come into force in October this year, means homeowners will only qualify for subsidies for external solid wall insulation, or if they are classified as "fuel poor".
This means 1.5 millions homes that qualify for loft and cavity wall insulation currently will no longer do so, the report said.
"It beggars belief that the government is removing this valuable subsidy completely when it will have a dramatic impact on family finances, as well as on jobs within the insulation industry and the wider economy," said Steven Heath from Knauf Insulation.
Last week, the government appealed against a High Court ruling that blocked its plans to cut subsidies for solar panels on homes.
The government wanted to halve payments made to households with solar panels, which it argues are at an unsustainably high level.
The court ruling came after environmental charity Friends of the Earth and two solar companies challenged the legality of the cut.
Both the solar and insulation subsidies are part of the government's efforts to encourage homeowners to be more energy efficient.