Record imports widen US trade deficit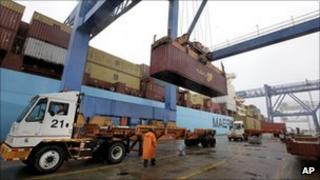 The US trade deficit widened in November for the first time in five months.
Official figures from the Commerce Department showed that the overall deficit grew 10.4% to $47.8bn.
Imports rose 1.3% to a record $225.6bn (£147.3bn), boosted by demand for oil and foreign cars.
Exports fell for the second month in a row, dropping 0.9% to $177.8bn, after lower sales of cars and capital goods such as aircraft and machinery.
The widening of the trade gap was bigger than had been expected.
The average price of imported oil rose 3.7% from October to $102.50 a barrel.
There was some better news for the US economy, with the trade deficit with China narrowing to $26.9bn, due to exports to China being their highest since December 2010.