Can paying a relative's loan put you at risk?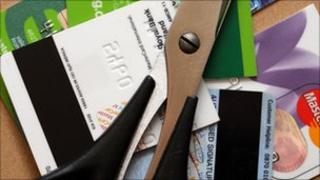 Parents should be careful when clearing a grown up son or daughter's loan that they are not signing up their own card to pay off any future debts.
"Sarah" has a 27-year old son and faced a dilemma when in March last year he came to her, saying he owed money to a number of payday loan firms.
She told Radio 4's Money Box programme: "My son had got into difficulties with various debt companies."
"I suggested I would pay them all off for him using my debit card and he would then repay me."
Family help
One firm her son owed money to was the payday loan firm Wonga.
It offers an automated payment service to pay off loans.
Sarah phoned the number to make the payment and, as requested, entered her son's date of birth and mobile number before giving her own card details.
"I was just making a one-off payment. I thought that was that. I didn't expect to hear from them again," she said.
Unfortunately, despite promising his mother not to borrow any more money, at the end of last year Sarah's son again took out another loan from Wonga which he could not pay back.
Customer confusion
Sarah says the first thing she knew about it was when she checked her bank statement and found Wonga had debited her account.
"They took the money out of my bank account without my knowledge. I didn't realise until I saw my bank statement," she said.
"First of all they took about £400. Then it's increased because it's happened on three occasions so it's gone up to about £1000."
What Sarah did not realise was that when her son opened his account with Wonga, he had agreed to something called a continuous payment authority.
That allows a firm to take payments as they become due.
Wonga says it thought Sarah card was her son's, because she entered her son's mobile phone and date of birth for the payment, and they share the same address.
Money returned
Sarah insists she did not know she was registering her card to pay off future debts.
Sarah phoned and wrote to Wonga to complain. It is now returning the money to her account.
Wonga said it was an unusual case which had now been resolved.
"We were alerted that a debit card registered to one of our customer's accounts was in fact his mother's at the end of December," the firm said.
"We immediately suspended the account and have since refunded the full amount and apologised for the rare mix-up. We have also agreed a sensible repayment plan with the customer."
Debt experts believe there should be clearer warnings to make sure parents like Sarah are not caught out in future.
Nick Lord, a freelance advisor, said: "It's highly unsatisfactory that anybody can ring up and make a payment out of goodwill on somebody else's behalf, and then find out months or even years later they are still liable, money is still being taken out of their account."
"One of the key things is to make sure you actually speak to someone when you're making a payment, so you can explain the situation.
"You are making a payment on behalf of your child and you want it to be clear that any card you are using will not be used as authority for future payments," Lord added.
BBC Radio 4's Money Box is broadcast on Saturdays at 12:00 GMT and repeated on Sundays at 21:00 GMT.